Unreal Engine 4 Git Source Control Plugin
UE4GitPlugin is a simple Git Source Control Plugin for Unreal Engine
It has been integrated by default in UE4.7 in "Beta".
This is a developement fork to be able to develop a "v2" of the plugin alongside the existing git plugin inside currents version of the engine.
Have a look at the Git Plugin Tutorial on the Wiki.
Status

This Git Source Control Plugin is now part of the default Unreal Engine 4.7

Beta version 1.0:
initialize a new Git local repository ('git init') to manage your UE4 Game Project.
create an appropriate .gitignore file as part as initialization
can also make the initial commit
display status icons to show modified/added/deleted/untracked files
show history of a file
diff against depot or between previous versions of a file
revert modifications of a file
add a file
delete a file
checkin/commit a file (cannot handle atomically more than 20 files)
migrate an asset between projects under Git
solve a merge conflict on blueprints
show current branch name in status text
Github LFS, git-annexe and/or git-media are working under Windows
Windows, Mac and Linux
cannot be done presently (TODO list for v1.0, ordered by priority):
What
add localisation for git specific messages
displaying states of 'Engine' assets (also needs management of 'out of tree' files)
tags: implement ISourceControlLabel to manage git tags
Branch is not in the current Editor workflow (but on Epic Roadmap)
Pull/Fetch/Push are not in the current Editor workflow
Amend a commit is not in the current Editor workflow
configure user name & email ('git config user.name' & git config user.email')
Known issues:
the Editor does not show deleted files (only when deleted externaly?)
the Editor does not show missing files
the Editor does not show .uproject file
issue #22: A Move/Rename leaves a redirector file behind
improve the 'Init' window text, hide it if connection is already done, auto connect
reverting an asset does not seem to update content in Editor! Issue in Editor?
standard Editor commit dialog ask if user wants to "Keep Files Checked Out" => no use for Git or Mercurial CanCheckOut()==false
In-code TODO list (internal roadmap):
FGitConnectWorker::Execute (While project not in Git source control) Improve error message "You should check out a working copy..." => double error message (and in reverse order) with "Project is not part of a Git working copy"

FGitSourceControlRevision::GetBranchSource() const if this revision was copied from some other revision, then that source revision should be returned here (this should be determined when history is being fetched)

FGitSourceControlState::GetBaseRevForMerge() get revision of the merge-base (https://www.kernel.org/pub/software/scm/git/docs/git-merge-base.html)

FGitConnectWorker::Execute() popup to propose to initialize the git repository "git init + .gitignore"

FGitSyncWorker (GitSourceControlOperations.h) git fetch remote(s) to be able to show files not up-to-date with the serveur

FGitSourceControlState::IsCurrent() const check the state of the HEAD versus the state of tracked branch on remote

FGitSourceControlRevision::GetFileSize() const git log does not give us the file size, but we could run a specific command

GitSourceControlUtils::CheckGitAvailability also check Git config user.name & user.email
Windows:
GitSourceControlUtils::FindGitBinaryPath use the Windows registry to find Git
Mac:
GitSourceControlUtils::RunCommandInternalRaw Specifying the working copy (the root) of the git repository (before the command itself) does not work in UE4.1 on Mac/Linux if there is a space in the path ("/Users/xxx/Unreal Project/MyProject")
Bug reports?
FGitSourceControlRevision::Get Bug report: a counter is needed to avoid overlapping files; temp files are not (never?) released by Editor!

GitSourceControlUtils::UpdateCachedStates // State->TimeStamp = InState.TimeStamp; // Bug report: Workaround a bug with the Source Control Module not updating file state after a "Save"
Getting started

Quick demo of the Git Plugin on Unreal Engine 4.12 (preview)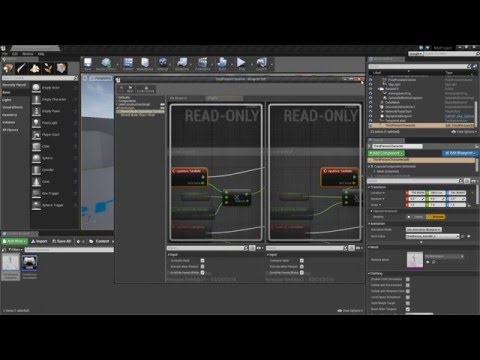 Install Git

Under Windows 64bits, you could either:
install a standalone Git, usually in "C:\Program Files (x86)\Git\bin\git.exe".
or copy a portable Git inside "/Engine/Binaries/ThirdParty/git/Win32".
Activate Git Source Control for your Game Project

Load your Game Project, then open:
File->Connect To Source Control... -> Git: Accept Settings

See also the Source Control official Documentation
License

Copyright (c) 2014-2015 Sebastien Rombauts (sebastien.rombauts@gmail.com)

Distributed under the MIT License (MIT) (See accompanying file LICENSE.txt or copy at http://opensource.org/licenses/MIT)
How to contribute
GitHub website

The most efficient way to help and contribute to this wrapper project is to use the tools provided by GitHub:
Contact

You can also email me directly, I will answer any questions and requests.
Coding Style Guidelines

The source code follow the UnreaEngine official Coding Standard :
CamelCase naming convention, with a prefix letter to differentiate classes ('F'), interfaces ('I'), templates ('T')
files (.cpp/.h) are named like the class they contains
Doxygen comments, documentation is located with declaration, on headers
Use portable common features of C++11 like nullptr, auto, range based for, override keyword
Braces on their own line
Tabs to indent code, with a width of 4 characters
See also